The following is a post from YogaSlacker at Large - Tom Grundy. It recaps the YS madness of the Summer OR show.
After surviving the Montana trip I ended up joining the yogaslackers and traveling circus heading down to Salt Lake City. There we imposed upon Amy (took over her condo). Things were rather hectic and without much sleep. We helped set up the Prana booth for the Outdoor Retail show (a biannual festival of consumerism and outdoor schmoozing). We also set up the rejuvenation yoga room. Then the show began, and among other things I was helping the yogaslackers run the room, connect with all their sponsers and others they knew at the show, collect schwag, see who I knew there etc. Meanwhile in the evenings we kept busy with various shenanigans and stayed up late so that we were mighty bleary-eyed biking down to the convention center to do it all over again the next morning. 4 yoga sessions a day probably were a bit much too, although I improved a bit and got rather sore. Things got even weirder when we were induced (quite willingly) to set up a slackline across the atrium (at the 8th floor level) of a nearby hotel one night. It all went down somewhat like a heist movie, and member X managed some walking time, but when member Y was on the line, the security guard caught wind (he was being distracted) and looked up. We had people keeping the elevator doors open so those weren't available, and we broke things down and disappeared into rooms quite quickly*. Then we went out to set up a slackline and do more acrobatics down the street. When we finally got back to Amy's, there was a raucous birthday party well underway with dancing pole (entertaining but dangerous), potent rum cake, and whipped cream fight... The next morning came far too early. At the conclusion of the show we helped break down the Prana booth and return the rented plants.
acroyoga at the Inov-8 booth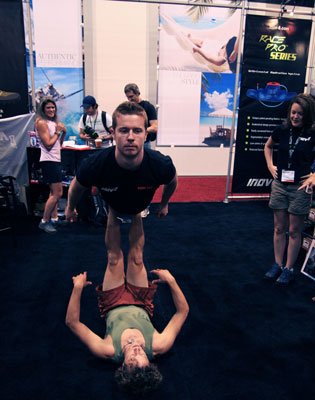 Reviewing the video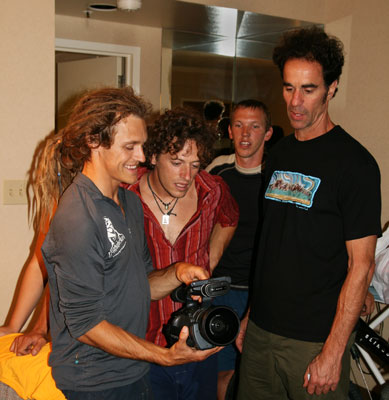 Dan showing his pole moves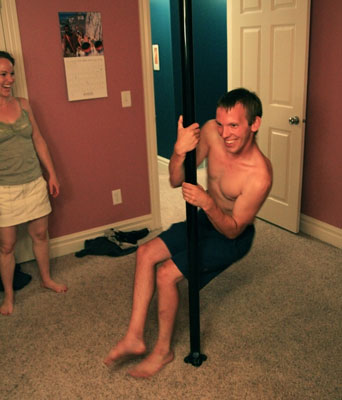 dangerous Dan on the pole of doom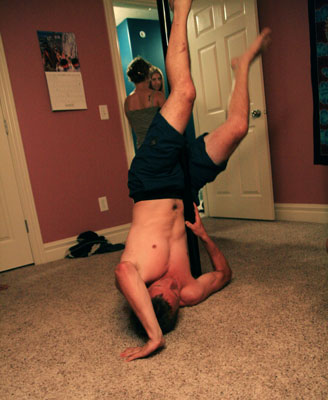 Amy has a bit more style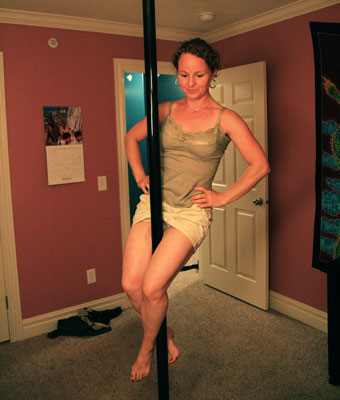 and doesn't crash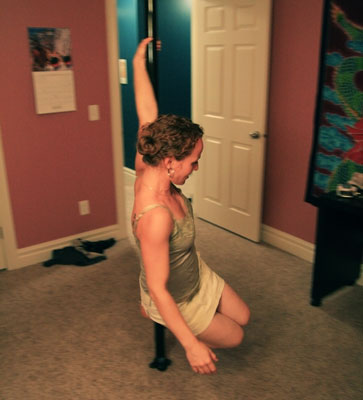 Jason also has some mad skills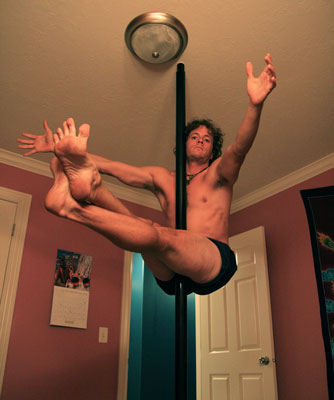 The winner of the Whipped Cream fight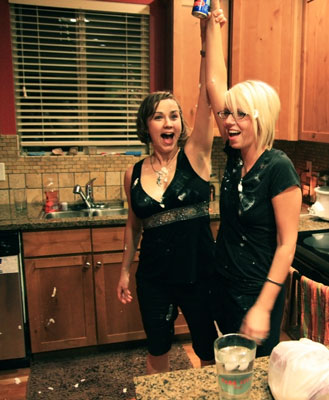 After the OR show finished, Dan headed back to North Dakota, Jason took off to Tucson to run a workshop, and Sam and I continued the fun with mountain biking, video editing, climbing, and more acrobatics, acroyoga, and slacklining. We even took out Sam's kiteboarding kites and played on some salt not-so-flats. Then Jason returned for an Acroyoga workshop with Amy.
At this point I should probably mention the Peace, Love car (PLC). This ford festiva (I think) or was that fiesta? In any case a small car with a long, hard, and illustrious life (over 240K miles), many of which show quite clearly. In any case, it has a lot of character, and when you are riding in it, you get a fair number of second looks from the people around it.
More on the PLC
The Peace, Love car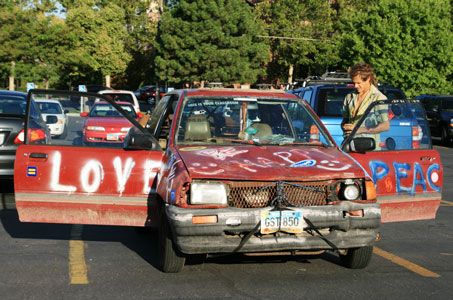 Another view of the PLC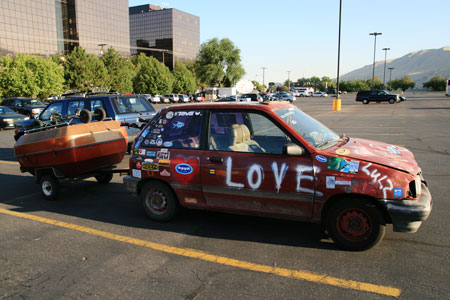 The PLC gets much needed brakes
(note tractor light on one side and the dynamic hood latch)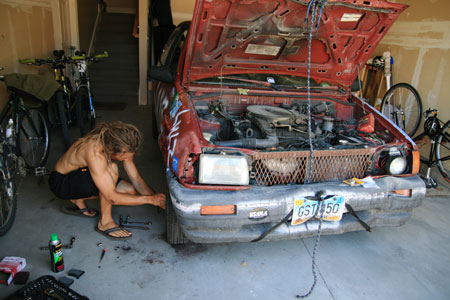 A Steaz can actually is part of the engine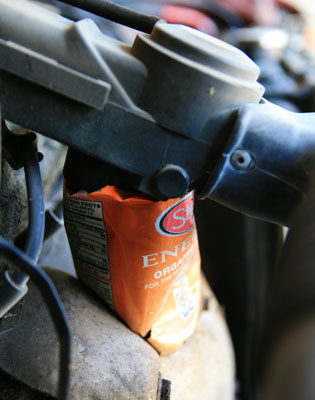 While in SLC, I biked over to the LDS temple complex to check it out. What an odd place it is. There were lots of multilingual and multiethnic tour groups and reverential hushed people wandering amid imposing patriarchal edifices with fountains, statues, and flowerbeds (and lots of air intakes for the underground archives/bunkers?). There was a real "surrender Dorothy" feel to the place.
The Temple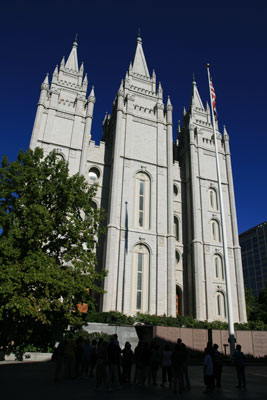 Statue and world headquarters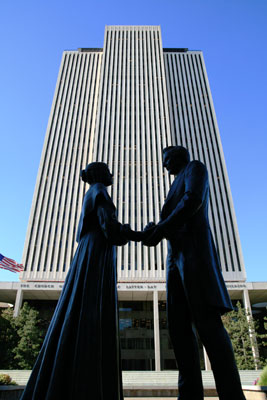 Never a dull moment with the Yogaslackers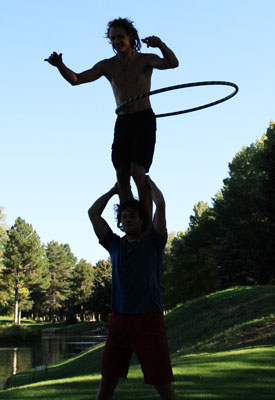 Sam and Jason do some acroyoga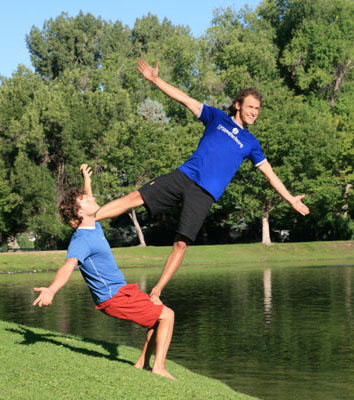 Sam and Karma model helmets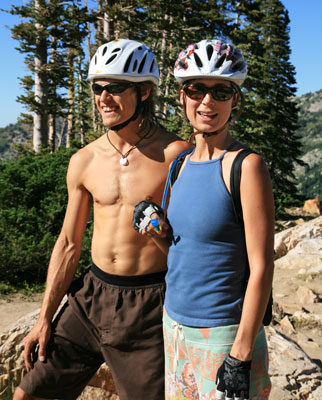 oops, we went up this trail by mistake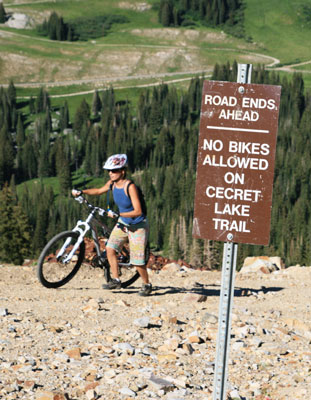 Finally we all went our separate ways, Jason to some adventure race in Labrador, myself to the high Uintas, and Sam off towards slacrofest in Santa Cruz.